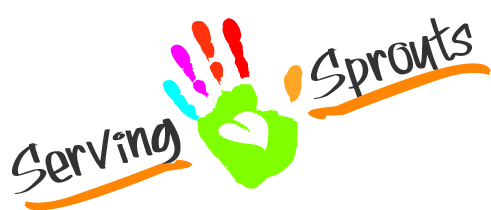 Serving SPROUTS is a FUN, community-service program aimed for kids! Whether your children are 2 years old or 18, we want YOU to become a Serving SPROUT! Our SPROUTS commit for one year to become a FEED 1 Partner for the Harvest Compassion Center, a local food & clothing bank located in North Phoenix and Maryvale.  Each SPROUT will dream up little and big ways of earning $28.00 dollars a month to FEED FAMILIES in our community!  Each child may take on their own FEED 1 commitment or a family can choose to become a partner together!  This program is designed to walk alongside mom's and dad's teaching our younger generation the importance in serving, community and giving.  We will hold quarterly open house events at the HCC to recognize our SPROUT'S accomplishments!
Can your child walk dogs, help tutor with homework, pick a neighbor's weeds or babysit?  We are excited to hear about the creative jobs that our SPROUTS come up with to earn dollars towards feeding our neighbors.  What does the HCC do with the $28.00 each month?  With our ongoing partnerships with St. Mary's Food Bank & Thunderbird Charities, we are able to stretch each SPROUT dollar ensuring that each SPROUT is truly FEEDING 1 family a month! 100% of SPROUT DOLLARS will purchase food and hygiene items to serve our families! The HCC, on average, serves 125 families a week. The need is great. Will you answer the call today?
What do you get?
For committing to becoming a Serving SPROUT you will receive your very own SPROUT contract, SPROUT t-shirt and collection envelopes.
For all questions and to register for the our Serving SPROUTS program please contact Mindy Lockwood or request more information HERE
Thank you Channel 3 News for spotlighting our Serving SPROUTS!