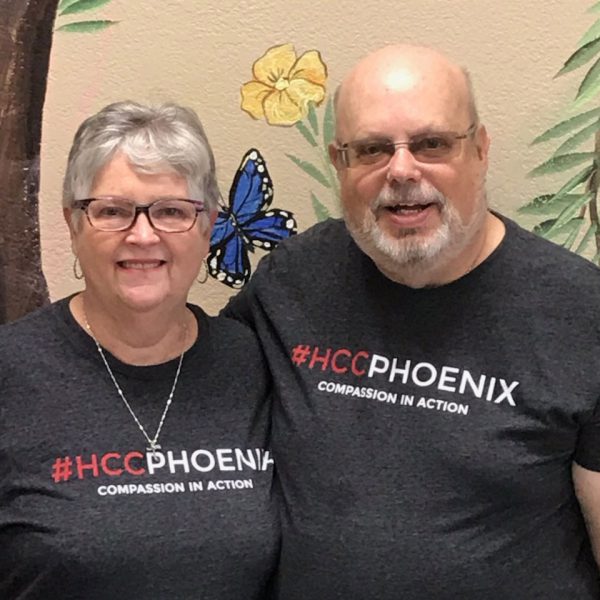 Peggy & Keith Burtt
This month HCC would like to highlight an amazing couple who volunteer weekly at HCC Maryvale. Please meet Peggy and Keith Burtt who started volunteering during the winter months in 2016 at HCC Phoenix. When they moved to Arizona full-time in February 2018, they began serving at HCC. Peggy and Keith have filled many volunteer roles at both HCC locations including cleaning shoes, sorting clothing, shopping with guests, computer intake and praying with guests.
Peggy and Keith found HCC online when they were looking for a place to volunteer. Their favorite thing about volunteering at HCC is, "The friendliness of the volunteers, Christian atmosphere and serving our guests with dignity. We always leave a volunteer shift going home with the feeling that we have contributed to our local neighbors in need."
Peggy and Keith are now full-time residents of the Valley since moving from the northwest suburbs of Chicago. Keith, a retired school teacher and school bus driver and Peggy a retired chaplain, now enjoy volunteering weekly at HCC, traveling, working with stained and fused glass, and serving at their local church.
When we asked Peggy and Keith to offer advice to others who may be undecided about volunteering, they replied, "Come give it a try, you will find yourself looking forward to your days at HCC! The holiday season is a blast!"
Thank you, Peggy and Keith, for your numerous hours of service loving HCC clients from the moment they enter our centers.
Looking to get plugged in at an HCC? Fill out a volunteer application here.