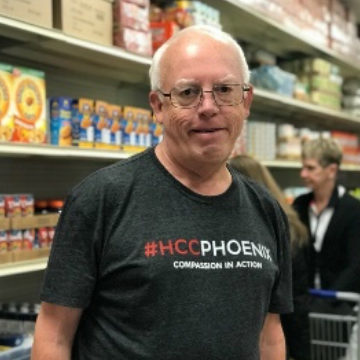 Tim Sullivan
Meet long-running HCC volunteer, Tim, who started volunteering at HCC Phoenix in 2014. Tim was raised in Phoenix, then moved away and served 42 years in the military and with the Pennsylvania State Police. Married to Ruth in 2015, both are retired now and reside in North Phoenix.
Tim is a seasoned HCC volunteer and has spent time working in HCC's clothing boutique, food aisles and even dressed up as HCC's Santa Claus last Christmas. Tim enjoys working in the grocery aisles the best and spending one-on-one time with HCC clients. "I have prior experience working in a grocery store so for me it's second nature," Tim commented.
Tim does everything he can to make sure each HCC client has the best experience while they are shopping. "Treating each HCC client as I treat my own family and seeing their smiles makes it all worth it." Tim, we are very thankful for your years of service to HCC and making a difference in the lives of hundreds of Valley families!