Meet Keri!
We want everyone to know that our volunteers are the heartbeat of every HCC shift! This month we are thrilled to introduce you to our great friend and amazing volunteer, Keri. Originally from the East Coast, Keri has lived in the Phoenix area since 1995, is married and has two kids, now both in college. After Keri retired from her career as a special education teacher while also adjusting to life as a new "empty nester,' she started looking for a great cause where she could volunteer her time. Keri checked out HCC online after hearing about the work being done at HCC through her church. "Boy, I am so glad I found HCC! Now that I have more time, I love giving back to awesome causes!" commented Keri. Although Keri lives closer to our North Phoenix location, she answered the call for immediate openings at our West Phoenix location and has been serving there every week since! Keri started by working in HCC's mini-mart and soon became a pro. Now she helps train new volunteers, giving them tips on how to shop with families for food. She has also worked in HCC's lobby and has been a welcoming face when brand-new families walk in our door, assisting them with their paperwork and making them feel right at home! "I always arrive and leave HCC with a full heart and a big smile! I just love all the people who work and volunteer at HCC and I leave feeling great about helping others," added Keri.
When we asked Keri what advice she would offer others who are thinking about volunteering at HCC, she replied: "I would tell others if they enjoy working with people and being super hands-on loving on families – this is the place for you! I am so thankful for HCC, and the people behind the scenes that make HCC possible, so this outreach is available for others to come in and be loved!"
Keri has been welcomed into the Harvest Compassion family and we want to thank her publicly for her outstanding work ethic, dedication, and the energy she pours into volunteering at the HCC.

Meet Sharon!
We need to let everyone know that our volunteers are the heartbeat of every HCC shift! As HCC shifts continue to be remarkably busy, our centers need more weekly volunteers! This month we would like to highlight one of our amazing volunteers who recently answered the call to serve at our West Phoenix location!
Meet Sharon! Sharon, originally from the western suburbs of Chicago, has lived in Phoenix for the past five years. Relocating to the Phoenix/Scottsdale area with her life partner, John, she initially ran a computer software company and consulted with businesses looking for growth opportunities. Sharon started volunteering in November of 2021 as she always had a desire to get more involved with her local community and help others in need. After she transitioned out of the corporate world, she now had the time and opportunity to follow her passion. A neighbor told her about HCC, she researched us and has been volunteering ever since!
Originally Sharon was volunteering at our North Phoenix location, then switched to our West Phoenix location during our renovations. "Even though I travel 30-plus miles each way to get to HCC West Phoenix, I truly enjoy volunteering at the West location with a great group of seasoned volunteers and staff!" added Sharon who works as a personal shopper with families in our mini-marts.
When we asked Sharon what volunteering at HCC means to her, she replied, "The most rewarding part of volunteering is being able to give back to the community. The many 'thank yous' and smiles received from our families, especially from those who are visiting for the first time, is truly heartwarming! The families are grateful for the services HCC provides and I am proud to be a part of their team!"
Sharon encourages others to make it a point to volunteer, "I would encourage others to volunteer at HCC because you never truly know the circumstances a person may be going through in their life. HCC is a non-judgmental, supportive environment whose sole focus is to help those in need during times when they could use a boost of help!"
Sharon has been welcomed into the Harvest Compassion family and we want to thank her publicly for her outstanding work ethic, dedication, and the energy she pours into volunteering at the HCC.

Meet Toni!
This month HCC would like to shine a huge spotlight on rockstar volunteer Toni! Toni, originally from Indiana, learned about HCC just as it was getting started. Her grandson was in kindergarten with the son of HCC's co-founders'. Both boys are 15 years old now, making Toni a seasoned HCC volunteer. She has volunteered her time over the years at all three HCC locations! "I started working at HCC North and then helped out with the toy distribution at West but my homebase, where I serve monthly, is Maryvale," added Toni. Toni often runs the HCC Maryvale clothing boutique, but she has worked in the mini mart, too!
A retired public school teacher, Toni continues to give back to the families and kids who visit HCC on a regular basis. "Toni is the best, she brings in donations, contributes to our monthly FEED1 program, she brings her grandkids in to help, and she is so supportive of all things HCC. HCC is a better place because of Toni!" shared Paul Thompson, HCC Maryvale manager.
Toni told us, "I enjoy meeting the families and helping make their visit positive and encouraging. The volunteers are all friendly, work well together, and we all have lots of fun!"
HCCs cannot operate without the hours of service from volunteers like Toni. All of us at HCC sincerely thank Toni for her servant's attitude and the hard work she pours into serving HCC clients!

Meet Susan!
Congrats Susan for being recognized this month for your hard work and service at our HCC West Phoenix location and for recruiting other friends to join you! "I dropped in to donate some clothing and got a tour of this AMAZING facility and instantly filled out a volunteer application. My friend and I actually had planned to volunteer together before she passed away from cancer, but I knew it was something I could do to honor her life. I LOVE going to 'work' on Thursdays!' added Susan.
Thank you, Susan, for your dedication in serving others with us at HCC!

Meet Kelly!
This month HCC would like to shine a huge spotlight on ROCKSTAR volunteer Kelly Geary! Kelly started volunteering two years ago at HCC North Phoenix after moving to the Valley from Austin, Texas. Kelly was on the hunt to find a volunteer outreach organization that she could enjoy and work side by side with her kids. "One of my first shifts was volunteering with my daughter. We both just loved it, especially being hands on with the families who come in!" added Kelly. Kelly and her family are often working in HCC mini marts: shopping with families, running our 'quarterback' position, assisting in our clothing boutique and even helping in our donation room.
Kelly, originally from Virginia, moved to the Valley in 2016 and has enjoyed a successful career building and scaling companies in the industries of recruiting, software consulting, and online education. Just last year Kelly scaled back her workload to start graduate studies at Harvard in Social Justice. She loves her professional and volunteer work because both allow her to connect people together!
When we asked what she found most rewarding about volunteering at HCC she told us, "I love that serving at HCC allows my life circle to expand, to include people that I would otherwise not have the chance to connect with, talk to, and, of course, share a laugh! I am reminded how much we all have in common and how important it is to connect with other. Everyone experiences struggles in life and to be part of an organization that stands in the gap and provides food and clothing in such a high class, dignified and compassionate way fills me with gratitutde."
The HCC's cannot operate without the hours of service from volunteers like Kelly. All of us at HCC sincerely thank Kelly for her servant's attitude and the hard work she and her family pour into serving HCC clients!

Nancy and Yoisy
This month HCC would like to shine a huge spotlight on HCC volunteers Nancy and Yoisy.
Nancy, was born in Michigan, but has lived in Arizona most of her life. She is married with and has four adult children and eight grandchildren. Nancy spent the past year volunteering at HCC West Phoenix and continues to serve weekly in our boutique. She first learned about HCC after attending a field trip to HCC North Phoenix with her grandchildren.
Nancy told us, "My grandchildren still talk about our HCC field trip and their serving experience! They really enjoyed it!" Nancy works tirelessly in our clothing boutique making sure families find their desired clothing items, their correct sizes and favorite colors! Her favorite part of being involved with HCC is truly being able to help families in need and sharing the love of Jesus. When we asked Nancy what her advice would be to others who are thinking about volunteering at HCC West Phoenix she said, "Just do it! It is truly a blessing to volunteer at HCC, helping others and meeting many amazing people!"
The second rockstar volunteer we'd like to highlight this month is Yoisy, who volunteers monthly at our Maryvale location. Yoisy, is a math major and is completing her bachelor's degree. She began volunteering with HCC in 2017. Yoisy' s sister introduced her to the mission and work being done at HCC. "My sister told me that HCC needed volunteers and really needed volunteers who spoke Spanish and I've been volunteering ever since!" added Yoisy.
Yoisy began volunteering in the lobby at HCC, greeting families and helping to translate for our check-in desk. Today you can find Yoisy working in all areas of HCC! She's a pro at shopping with families in our mini-marts, assisting families in our boutiques and even helping process donations. Yoisy told us, "I love being able to help people in any way I can. Every time I finish a shift at HCC, I feel rewarded that I was able to bring some good to the families I met and served! I've learned so much at HCC and want to encourage others to treat everyone with kindness, as we never know what a family may be going through."
Our centers cannot operate without the hours of service from volunteers like Nancy and Yoisy! All of us at HCC sincerely thank these strong ladies for their amazing servant's attitude and their hard work.

Mike Jellesma
All of us at HCC want to introduce to you Mike, an outstanding volunteer who has spent many hours serving others with our HCC team.
Mike has volunteered weekly at the North Phoenix location since January of this year and is a jack of all trades. He shops for food with our clients, cleans and helps maintain the center and is kept very busy processing food donations. "I have worked in all areas and enjoy them all, but the one that fits me best is the processing of incoming donations. It is physically demanding and good exercise, I love it!" replied Mike.
Mike was born in South Dakota and is a Navy Veteran. He spent decades working in sales and manufacturing and now owns and manages residential rental properties with his wife. He is a dad of two grown daughters and a proud grandfather to four grandchildren.
Mike's wife was the first to volunteer at HCC. She was impressed with our outreach and suggested he give it a try. Mike said, "I came out to volunteer and found that HCC was very organized and has an effective system to serve those in need. My co-volunteers help create a great environment to work in. If you're looking for a place to get plugged in, check out HCC. They need help almost every day of the week and can find a place for you!"
Mike is grateful for his time volunteering at HCC and wanted to give a shout out to center manager Lori, who is a great teacher and helps everyone feel good about their volunteer work!
Thank you again, Mike, for your dedication and hard work. You are truly treasured!

Michelle
We want everyone to know that our volunteers are the heartbeat of every HCC shift! This month we are thrilled to introduce you to our great friend and amazing volunteer, Michelle. Michelle, originally from Kansas City, moved to Phoenix in 2011 with her husband and is a fleet account manager with QuikTrip. This sweet couple cherishes their two fur babies and time spent with their large extended family.
Michelle is a rockstar volunteer who runs our donation room. She greets walk-in gifts-in-kind donors, processes donations, and helps to keep everything organized. "The most rewarding part of volunteering at HCC is making an impact in our community and seeing all the lives we touch every shift," added Michelle.
"Michelle has now been volunteering with us for two years and she is one of the best! Some volunteers are built to use their talents behind the scenes and Michelle does that well several times a month. Her organizational skills help keep all of our donations in order and we love the care she takes when new donors come in to donate!" said Nicolee Thompson, HCC Executive Director.
When we asked Michelle, what volunteering at HCC means to her she replied, "DO IT! We all learn together and, by sacrificing a few hours, we are able to make a difference and change lives in our community. I believe showing love to others by volunteering lets our clients know that people do care about them, God cares about them and it gives them motivation to get through hard times."
"Michelle is eager to help whenever she can, even if it's coming in only for an hour on her day off! When she sees something in the donation room that needs to be done, she takes the initiative, problem solves and jumps into action!" commented Lori Schweighardt, HCC North Phoenix Director. "Michelle is one of the hardest workers at HCC! Because she serves behind the scenes you may not recognize her face, but with she is instrumental to our operation!" added Adrie Olson HCC Volunteer Coordinator.
We are so thankful for the time, effort, and heart that Michelle pours into the mission of HCC! Michelle, along with 2,000 additional volunteers annually, is the only way HCCs are open now six days a week! "HCC has been an answer to prayer for me. I have made great friends, and it allows me to pursue my passion of helping others!" added Michelle.

Donna
We want everyone to know that our volunteers are the heartbeat of every HCC shift! This month we are thrilled to introduce you to our great friend and amazing volunteer, Donna. Married with two teenage sons, Donna has lived in Phoenix since 1995. Donna said that while she had driven by HCC North Phoenix "probably a 1,000 times" she had never visited the center. "After my son committed to working with HCC on his Eagle Scout service project, I committed to volunteering weekly in the fall of 2020. Seeing the families come in, being supported and loved by so many truly feeds my soul," added Donna.
Donna started by working in HCC's clothing boutiques, then as computer check-in lead, has recently been trained in the donation processing area and, if we need her to jump into the mini-mart and shop with clients, she can do that too! "Donna is an asset to the HCC Team, period. She has been asked to offer her help in so many areas and has always responded by saying "yes" and working so well each time!" said Nicolee Thompson, HCC Executive Director.
When we asked Donna what volunteering at HCC means to her she replied, "By far it is the time you are in the same room with our families. You are seeing people during a dark time in their life. They are kind. They are patient. They sometimes cry. They often smile – I'm a helper, quick to jump in and do whatever needs to get done. When I'm at HCC, in any role, I feel it is as close to God's work as I have ever experienced."
Donna encourages others to make it a point to volunteer. "The staff at HCC make it easy to jump in and help. They are encouraging and willing to meet you where you are. Sign up for a shift! Bring a friend or your son/daughter and see how you feel afterward. You will leave with more than you gave." Donna wants you all to remember to, "Think about HCC when you talk to friends and family. We have seen how much HCC helps our community and we often spread the word so others can see the benefit by donating their clothes, food, money, or time locally. Help us share the good vibes!"
Donna has been welcomed into the Harvest Compassion family and we want to thank her publicly for her outstanding work ethic, dedication, and the energy she pours into volunteering at the HCC.

Maribel Carrillo
Each month the HCC enjoys shining the spotlight on one of our amazing volunteers. This month we are thrilled to introduce you to our great friend, Maribel, who is our first volunteer spotlight from our new HCC West Phoenix location! Maribel, who has been married to Jorge for almost 28 years, has three adult kids and has lived in Phoenix for the past 25 years. Maribel began faithfully volunteering at our new West Phoenix location last October when, due to the pandemic, she was forced into furlough after 19 years of working at Mahon's Sandwich Shop. "I love my bosses, they are like my big brothers, however we just don't know if the business will survive COVID-19."
Maribel saw a flyer for the new HCC opening, located only blocks away from where she lives and instead of waiting at home for news of her work reopening, walked in to our center to sign up to volunteer. "It has a been a pleasure volunteering at HCC, thank you for the opportunity! I like the feeling of doing something to help someone else who is in need, especially kids. I love being able to bring happy memories and smiles to the faces of the kids who walk in, and now those who have come back more than once remember me! If I can be a positive influence in a child's life that is important to me." added Maribel.
Maribel can be seen on Monday and Thursday mornings welcoming families into our lobby, helping to keep our line flowing in a very organized fashion and translating for those who speak only Spanish. Maribel has also taken it upon herself to pass out HCC West Phoenix flyers to her neighbors, helping us spread the word that HCC is now open in their neighborhood.
Maribel has been welcomed into the Harvest Compassion family and we want to thank her publicly for her outstanding work ethic, dedication, and the energy she pours into volunteering at HCC West Phoenix!

Tracy Bauer
HCC would like to shine a huge spotlight on ROCKSTAR volunteer Tracy Bauer! HCC leaders first met Tracy about a year ago after her daughter suggested she check out the volunteer opportunities that HCC had to offer. When Tracy did her research on HCC she said, "I was overwhelmed with the commitment, vision and mission of the family that started HCC." Then, without hesitation, Tracy began volunteering.
Tracy added, "There are so many ways and opportunities to serve at HCC and utilize your own talents and skills. I have served in several areas but my passion is the clothing area, ensuring that all our clothing is of high quality and presented to our clients in perfect condition." We applaud Tracy's efforts behind the scenes as she truly connects with HCC's passion to make sure each client who visits HCC experiences a first-class shopping experience!
"At HCC, every volunteer is part of the family. We have a wonderful staff and group of volunteers who are dedicated to helping our communities. It's far more than giving food and clothing. It's showing our clients respect, support, faith and hope every day. I am very blessed to be  a part of HCC," commented Tracy.
Our HCC leaders were touched when Tracy told us that volunteering at HCC is the highlight of her week. She wants anyone considering a new volunteer opportunity to check out HCC!
Thank you, Tracy, for your countless hours of service and your partnership in serving our local neighbors!

Boyd Corbett
HCC would like to shine a huge spotlight on ROCKSTAR volunteer Boyd Corbett! As COVID-19 began shutting down non-essential businesses, it also shut down Boyd's weekly work travel routine. Instead of being on the road four to five days a week, Boyd found himself at home with time to finally volunteer at HCC North Phoenix. Boyd jumped in with both feet and asked HCC leaders to schedule him whenever needed. This was a huge help because, at the same time, HCC needed additional hands and feet! Boyd learned how to shop in HCC's mini-marts and now serves one or two times a week at multiple center locations. "I love being able to help and look forward to serving at HCC each week. Just seeing the smiles of the parents and children we get to serve while volunteering is really special," commented Boyd.
Boyd, a father to five adult kids, grandpa to seven grandkids and great-grandpa to one precious great-grandson, moved to Phoenix four years ago after being raised in Illinois. After going to school in Kentucky and training horses his entire life, Boyd's career in manufacturing took him around the world. Boyd's grateful to now live in the Valley, enjoy the warm weather, and wake up daily for morning hikes with his rescue dog, Ollie.
"Boyd has been serving since COVID-19 hit and he literally hasn't stopped since. He's taken the unplanned lull in his career not to sit at home, but to instead take the focus off of his own situation and focus on serving others!" added Nicolee Thompson, HCC Executive Director.
"HCC is the most rewarding organization, you'll get to serve with friendly people who love the Lord and get to help wonderful families who need a bit of help to get back on their feet," added Boyd.
Thank you, Boyd, for your countless hours of service, your FEED1 partnership and for being an HCC Champion!

Glenda Schneiderman
HCC would like to shine a huge spotlight on ROCKSTAR volunteer Glenda Schneiderman! Glenda started volunteering approximately four months ago at HCC Maryvale although she's been volunteering in the Valley at various outreaches for the past five years. Glenda was prompted by the pandemic to volunteer more than just one day a week; she saw a need to do more. Glenda responded and now comes to HCC weekly.
"Being able to serve individuals who need so much right now actually gives me so much in return! I feel blessed to have my health and be able to help others during this pandemic." added Glenda.
Glenda shared that she often thinks about her own mother's sacrifice, who years ago when Glenda was a small child, would always give a portion of what she had to charity, even though their family had very little to give. Her mother's action and lessons in giving never left Glenda and she's proud to be giving back today!
The HCCs cannot operate without the hours of service from volunteers like Glenda. All of us at HCC sincerely thank Glenda for her servant's attitude and the hard work she pours into serving HCC clients!

Laura Magin
We need to let everyone know that our volunteers are the heartbeat of every HCC shift! Due to COVID-19 safety restrictions and now parents and grandparents forced to be at-home teachers for virtual school, HCC is in dire need of weekly volunteers! This month we'd like to highlight one of our amazing volunteers who recently answered our S.O.S call for help!
This month we are thrilled to introduce you to our great friend, Laura. Laura, originally born and raised in the small town of Brockport, New York, has lived in Phoenix for the past 16 years. Laura is a mom to four adult children and a new grandma to one little 8-month-old girl. Laura started volunteering during the pandemic and can often be seen at HCC North Phoenix 2-3 days a week. Laura started by helping process food donations and shopping with HCC clients, then was asked if she'd like to train for check-in computer lead. Today, Laura can often be seen at HCC's check-in desk and loves connecting one-on-one with each family she greets.
"I love seeing the beautiful little kids that come in, they make us all smile!" added Laura.
When we asked Laura what volunteering at HCC means to her she replied, "Volunteering at HCC has been an amazing experience for me. The Lord has used this to help me to step out of my comfort zone and I have made beautiful friendships!"
Laura encourages others to make it a point to volunteer, "I would encourage others to volunteer at HCC because it is truly such a blessing to be able to help those in need and it's such a blessing also to work with all the awesome staff and fellow volunteers."
Laura has been welcomed into the Harvest Compassion family and we want to thank her publicly for her outstanding work ethic, dedication and the energy she pours into volunteering at the HCC.

Laurie Schnebly
Laurie, an advertising copywriter with Lavidge, first volunteered with her co-workers at HCC North Phoenix in 2017. Even though her work team's service project lasted only one day, Laurie was hooked and signed up on her own to come back and serve at both our North Phoenix and Maryvale locations. Laurie's favorite section to serve in is HCC's clothing boutiques. When COVID-19 hit she also jumped in to sanitize product and iron clothing donations. Laurie commented, "Every time I volunteer, I come home feeling so blessed by the people I help and the people I get to work alongside. Everyone is such a cheerful giver; I finish each shift feeling grateful to have been a part."
Laurie's life recently has been one of heartbreak and triumph as her husband currently is suffering from stage 4 cancer, yet her first grandson was also just born. Having a lot of change in her life, she's thankful for HCC's consistency when she volunteers. "There have been a few occasions when I was blessed to pray with visitors. This truly encouraged me that God is at work in this place!" added Laurie.
Thank you, Laurie, for your dedication and partnership volunteering so faithfully at HCC.

Rocky
Rocky, semi-retired, immigrated to Phoenix from India in 1990. After seeing HCC spotlighted on the local news and hearing about our need for additional volunteers due to COVID-19, Rocky decided to get involved. He began volunteering at HCC North Phoenix two and half months ago.
Rocky is no stranger to helping others. In India he was involved with mentoring and assisting kids attend and graduate from school and he has also worked with hospice patients. Rocky volunteers weekly and can be found greeting HCC clients, helping them shop in our mini-marts, and also, coming in on HCC's off days to help with special outreach events. Rocky commented, "My favorite part of volunteering at HCC is working with the friendly, caring staff at HCC and helping people who need it during at this difficult time."
Rocky, we thank you for answering HCC's call for help during COVID-19! Your outstanding work ethic and the energy you bring volunteering encourages us all.

Patty
Patty is originally from Los Mochis Sinaloa and now lives in Phoenix. Patty has been a faithful volunteer for the HCC since 2015 after she first visited HCC seeking assistance for her family while she was temporarily out of work while her father was suffering from kidney cancer. As Patty continued to look for work she took up HCC on their offer to come in and volunteer on Wednesday mornings. Since the first shift Patty volunteered, she has been a blessing to the HCC and our clients. Patty can be seen many days greeting clients in our lobby, helping to keep our line flowing in a very organized fashion and translating prayers for those who speak only Spanish. Patty commented, "Volunteering at HCC allows me to show an attitude of service to others. It reminds me to be humble, reminds me to love others, and reminds me to try to truly understand the needs of my neighbors."
Patty encourages others to make it a point to volunteer, "I've learned what sacrifice is and have been able to better teach that to my daughter, who often volunteers with me. I also feel great satisfaction after serving, knowing we are making a difference at HCC. I've greatly benefited from my years of volunteering. I have developed a more caring attitude, stronger self-esteem, and feelings of sincere gratefulness for all we do have. I have also made some great friends at HCC who have been there when I needed support!"
Patty has been welcomed into the Harvest Compassion family and we want to thank her publicly for her outstanding work ethic, dedication and the energy she pours into volunteering at the HCC.

Elisabeth Bergt
Spending the last four years volunteering at HCC North Phoenix, Elisabeth continues to serve and love HCC clients monthly. Elisabeth first learned about HCC North Phoenix through the North Phoenix Chamber of Commerce in 2016. Elisabeth volunteers as lead computer check-in during Saturday shifts. Elisabeth's favorite part of being involved with HCC is truly being able to serve her community. "I love seeing families who have been clients for a while visit us, updating us on how their lives are improving! I also love meeting fellow volunteers and watching them work so hard in the center," Elisabeth added.
Elisabeth encourages others to volunteer in their local community because it is a great way to give back and help bless others. "After volunteering at the HCC, I am more grateful for the things in my life that I often take for granted such as running water, electricity in my home, and my running car."
Elisabeth is a second-generation Arizona native and lives in the North Valley. She's a mom to her four fur-babies, two cats and two dogs and a wife to her wonderful husband of fifteen years.

Cari Legere
Cari, originally from Guatemala City, resides in Glendale with her husband and daughter. Cari is a full-time mom to a 14-year-old daughter and a part-time Spanish teacher at West Valley Christian School. Cari told us, "Being raised in Guatemala, poverty is a daily sight and one can definitely grow indifferent to the situation. When I started serving at HCC I realized that the U.S. was not exempt to poverty." Cari has been regularly volunteering at HCC North Phoenix and Maryvale locations for over three years and has had experience in almost every aspect of volunteering at HCC. "I have worked in food and clothing, computer check-in, and processing in the back. We are a Serving SPROUTS family and I serve on HCC's Advisory Board," commented Cari.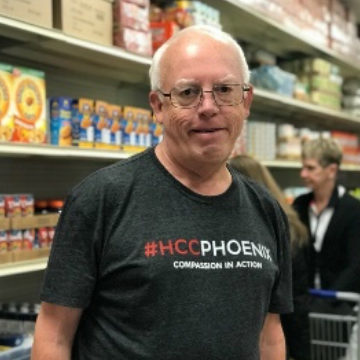 Tim Sullivan
Meet long-running HCC volunteer, Tim, who started volunteering at HCC Phoenix in 2014. Tim was raised in Phoenix, then moved away and served 42 years in the military and with the Pennsylvania State Police. Married to Ruth in 2015, both are retired now and reside in North Phoenix.
Tim is a seasoned HCC volunteer and has spent time working in HCC's clothing boutique, food aisles and even dressed up as HCC's Santa Claus last Christmas. Tim enjoys working in the grocery aisles the best and spending one-on-one time with HCC clients. "I have prior experience working in a grocery store so for me it's second nature," Tim commented.
Tim does everything he can to make sure each HCC client has the best experience while they are shopping. "Treating each HCC client as I treat my own family and seeing their smiles makes it all worth it." Tim, we are very thankful for your years of service to HCC and making a difference in the lives of hundreds of Valley families!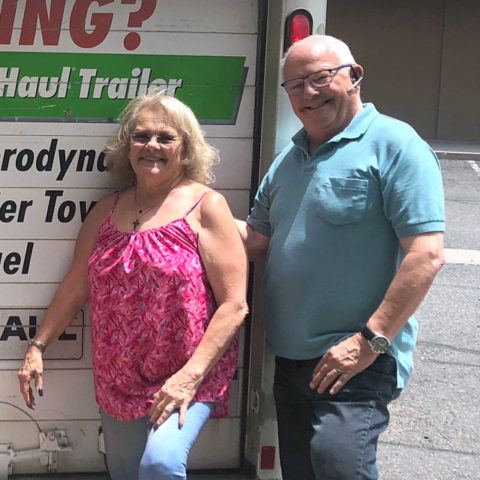 Glenn Mire & Barb Schofield
This month we are honored to highlight this amazing brother / sister team who truly display compassion for their neighbors in need. Immediately after Glenn took his first tour of HCC Phoenix two years ago he was hooked and knew he had found a place to serve. Glenn began volunteering from time to time at both HCC locations and, as he did, he noticed how fast product goes out the door to families. He knew he needed to do more to help replenish the product HCC hands out. Glenn has now created a network of drop-off locations around the Valley where clothing donations are collected and delivered to HCC. He is constantly passing out HCC collection bins to get not only his local neighbors involved but local businesses too! One person who became a 'drop zone captain' was his sister, Barb, who quickly took the collection process to an entirely new level! Barb, who lives in Sierra Vista, has donated over 700 bags of clothing. Barb recruited her local community of Sierra Vista working with estate sales representatives, and the flood of donations hasn't stopped! "I get great satisfaction from knowing that I'm helping those that are less fortunate … that truly warms my heart," commented Barb. "I speak with a lot of people explaining why I collect the gently used clothing. The community here has a lot of homeless, yet there are no places like HCC in our city. We are striving to bring such an amazing organization to Sierra Vista one day!"
Barb's big brother, Glenn, added, "Knowing all of these donations collected go directly to those who need them the most, at no cost and with a lot of compassion and dignity, fuels my efforts. Anytime I'm experiencing some sort of breakdown in my own life, taking a truck-load of donations down to HCC reminds me that there is always someone who is dealing with much bigger issues, and it returns me to living in gratitude!"
All of us at HCC are extremely thankful for your outpouring of support and being true HCC Champions!

Herrington Family
The Herrington Family, who reside in North Phoenix, have also been members of HCC's Serving SPROUTS Kids-Feeding-Kids program. They have been regularly volunteering at HCC Phoenix for over two years. Chris and Carrie, dad and mom to Colin (14), Charis (12), and Cuyler (10) have had experience in almost every aspect of volunteering at HCC. "We have worked in food and clothing, stocking shelves, cleaning, packing diapers and are even starting to learn computer check-in," commented Carrie. "We have really enjoyed serving monthly at HCC alongside our kids, our homeschool co-op group, at SRPOUTS events, and with our church small group. There are so many ways to get involved in HCC!"
This family loves the chance to volunteer together. "We are pulled in all different directions during the week and on the weekend, but at the HCC we get to serve the Lord and our community together."
When we asked Chris and Carrie if their and/or their kids' lives have changed at all since volunteering at HCC they replied, "Our children are very aware of the suffering around us. By meeting people at the HCC, they have become much more compassionate to those in need. They have also become more intentional in looking for opportunities to help others. That is something every parent wants to see in their children."
HCC thanks the entire Herrington Family for their years of service. They truly see that they live in a community where there are those who suffer and, instead of watching from the sidelines, this family has jumped into serving with both feet!
"True joy comes from loving your neighbor and we get to experience this joy by being the hands and feet of the Lord every month."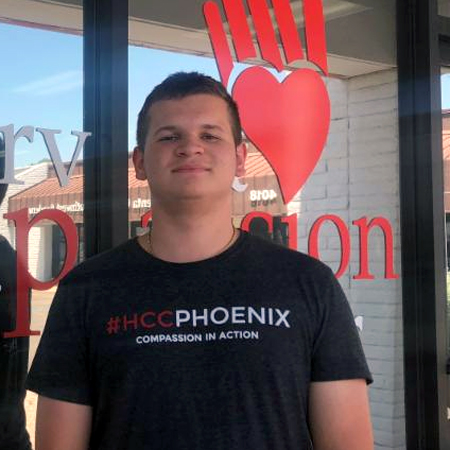 Jake De Leon
Volunteering for the last eleven months, Jake was looking for a place to get connected with and earn volunteer hours. Through his local church he heard about Harvest Compassion Center Maryvale. Jake is a 'pro' at shopping for food with HCC clients and feels good about helping someone who is in need. "I share and invite others to volunteer at HCC all the time, they have a lot of needs! You can volunteer helping families shop or in the back where donations are processed," said Jake.
Jake looks forward to serving weekly at HCC Maryvale and enjoys being face to face with HCC clients. "He's a huge help and a great young man who, personally, I have seen grow through serving here. We love having Jake come volunteer, "Can we please get 10 more Jakes to serve?" commented Paul Thompson, HCC Maryvale Director.
Jake can also be seen working at Arrowhead Mall and he enjoys playing video games. Jake has lived all over the United States being part of a military family. All of us at HCC are thrilled Jake's family landed in the Valley and we are able to get to know this amazing young man.
Get involved today and volunteer at an HCC. Don't forget, HCC Maryvale is launching a new shift! EVERY SATURDAY volunteers are needed at HCC Maryvale in the morning. Click HERE for HCC's Volunteer Application.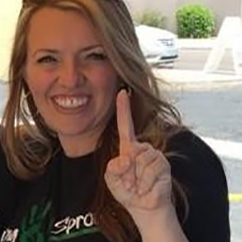 Pam Legan
Spending the last seven years volunteering in every aspect of HCC, Pam continues to serve and love HCC clients weekly. Pam has worked in operations at HCC Phoenix and Maryvale, shopping for food, hygiene and clothing items with guests. Pam also volunteers in the back-of-the-house sorting and processing donations. Pam's most favorite part of being involved with HCC was helping launch HCC's "Kids Feeding Kids" program called Serving SPROUTS (Small People Reaching Out Unselfishly To Serve). Pam truly believes, "It is so important to teach our youth love and compassion for others through the SPROUTS program!"
Pam, a mom of three kids, loves volunteering alongside her kids and loving on those who walk into the doors at HCC. "HCC is truly an organization dedicated to the service and care of others. I cannot imagine a better place to get involved in and make a difference!"
The HCC's can not operate without the hours of service from volunteers like Pam. All of us at HCC sincerely thank Pam for her amazing servant's attitude and the hard work she pours into the HCC mission!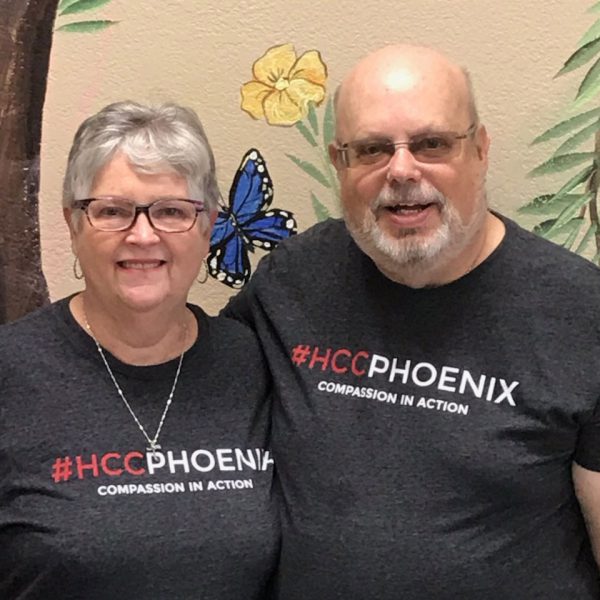 Peggy & Keith Burtt
Please meet Peggy and Keith Burtt who started volunteering during the winter months in 2016 at HCC Phoenix. When they moved to Arizona full-time in February 2018, they began serving at HCC. Peggy and Keith have filled many volunteer roles at both HCC locations including cleaning shoes, sorting clothing, shopping with guests, computer intake and praying with guests.
Peggy and Keith found HCC online when they were looking for a place to volunteer. Their favorite thing about volunteering at HCC is, "The friendliness of the volunteers, Christian atmosphere and serving our guests with dignity. We always leave a volunteer shift going home with the feeling that we have contributed to our local neighbors in need."
Peggy and Keith are now full-time residents of the Valley since moving from the northwest suburbs of Chicago. Keith, a retired school teacher and school bus driver and Peggy a retired chaplain, now enjoy volunteering weekly at HCC, traveling, working with stained and fused glass, and serving at their local church.
When we asked Peggy and Keith to offer advice to others who may be undecided about volunteering, they replied, "Come give it a try, you will find yourself looking forward to your days at HCC! The holiday season is a blast!"
Thank you, Peggy and Keith, for your numerous hours of service loving HCC clients from the moment they enter our centers.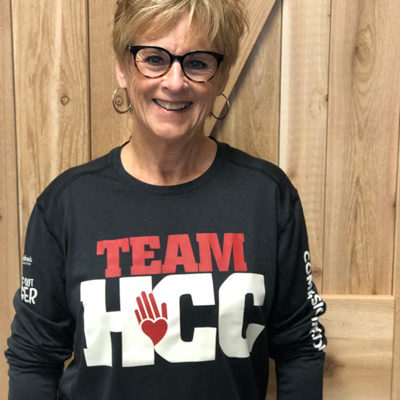 Jill Yancy
Jill, a retired Phoenix native and mom of 4 children and a grandma to 8, started volunteering at HCC Maryvale last June. Jill, a previous business owner, now retired, was looking to give back to her community with some of her new free time.
Jill has worked in HCC's food area, clothing boutique and has even assisted with clothing donations, processing, and laundry. When we asked Jill what her favorite item of volunteering at the HCC was she answered, "Being able to visit with HCC clients when they come through and feeling like I'm heling those in need. The HCC does such a great service in helping people with their immediate needs."
Jill highly recommends others to get involved volunteering at the HCC adding, "It's a great feeling to be able to help others who need it. We've all been in positions where we need help – everyone can give back and it's a great way we can all support each other."
All of us at HCC are grateful for Jill's commitment to serve those in need at our Maryvale center. "Jill comes in every week, and she's always smiling and willing to jump in wherever I ask!" said Paul Thompson, HCC Maryvale Director.
Thank you, Jill, for serving others with your time and energy!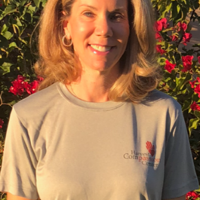 Kathleen Trapp
This December, HCC would like to shine the spotlight on an amazing HCC volunteer, Kathleen Trapp, whose own parents taught her how to serve at a young age. Today Kathleen continues to live out the same lessons she learned long ago. As Kathleen and her husband aim to teach their own teenage boys the same lessons in serving others, the HCC has played a key role. Kathleen began volunteering at the HCC over four years ago with her son, Max, as they were looking for service opportunities that allowed kids to volunteer. HCC welcomed Kathleen and Max with open arms and they immediately began volunteering on Saturdays. "I love this time with my son and learning about the needs of others right in our community," commented Kathleen.
Kathleen and her entire family are now involved with HCC in numerous ways- from volunteering during HCC shifts, to helping with local bread pick-ups, joining our Advisory Board, helping with HCC's backpack/school supply and Christmas toy drives and setting up community volunteer projects with Trapp Technology and the Paradise Valley High School varsity football team.
When we asked Kathleen what her favorite thing is about volunteering at the HCC she replied, "My favorite thing about serving at the HCC is definitely the people. Working side by side with HCC guests, volunteers and staff. It is a great feeling to work with a team that have the same desire, to serve others and show each person served they have value and they are loved. My favorite experience was scheduling the PVHS varsity football players and coaches to stock and get ready for the upcoming Saturday shift. Watching my son, Max, and his team work hard and have so much fun while selflessly giving their time really touched me. It's exciting to be a part of HCC and I love that they welcome the youth of our community to serve and learn the needs right here in our neighborhood."
As the HCC's continue to expand there are also expanding needs. Kathleen constantly encourages others to use one's gifts and talents at the HCC! Take a step of faith and give it a try. Serving others in your community and seeing the difference that is made in others' lives is very powerful. It is not only rewarding, but also helps us see the bigger picture of God at work in all our lives.
Kathleen added, "God has blessed us to be a blessing and I am so grateful that HCC is a place where our family can serve. Funny thing is, when I volunteer for the HCC, I feel like I am the one blessed so much more by the other volunteers, community members and clients served!"
Thank you to Kathleen and the entire Trapp family for being a strong example of a family who serves and loves their community!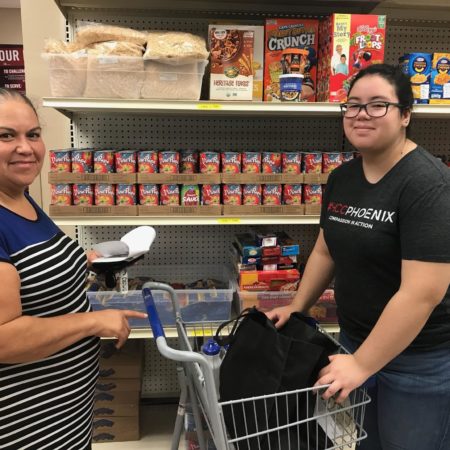 Emily Lopez
Emily, going into her senior year of high school, is one of our younger volunteers who shows maturity beyond her years as she interacts with HCC guests with ultimate care and compassion! Emily has worked in every area of HCC. She has shopped with guests for food and clothing and has run the lobby. When we asked Emily what her favorite thing about volunteering at the HCC is, she answered, "It is definitely the atmosphere. There is a feeling of serenity and generosity within every corner of the building. You can never feel out of place, and every person who works/volunteers radiates a lovely aura of friendliness."
Emily truly has a servant's heart, as she not only volunteers her time at HCC she also is a regular volunteer at Mom's Pantry, St. Mary's Food Bank and the Phoenix Art Museum. Emily is constantly volunteering because of one important lesson her mother taught her, "Always remember that life is a cycle, while I may be at the top of the world one day I need to remind myself that someone else could be experiencing their worst day, and we're there to serve on those days."
Besides volunteering in her local community Emily loves her family and dog, reading and playing the violin. Her goal is to become a Supreme Court judge and continue to give to those who need help getting back on their feet.
All of us at HCC know Emily will do amazing things in the future to impact her community, state and country! Thank you, Emily, for showing us all how to be a light to our community!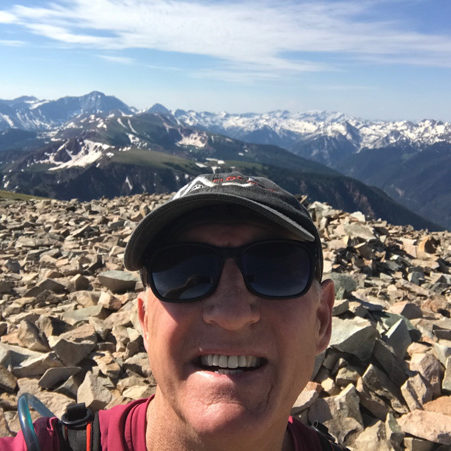 Walt
Walt, originally from Crystal Lake, Illinois, has been serving at the Harvest Compassion Center Phoenix over 5 years and literally jumps in to help wherever he is needed. After retiring and moving to Phoenix in 2008 to enjoy all the Valley's outdoor living and recreation, our paths crossed. 

On Walt's first day walking into the HCC to volunteer we knew he was a hard worker and a team player. Walt can be seen weekly cleaning and tagging shoe donations, the next day he's mopping the floors before our morning shift; he also can be regularly seen helping unload our delivery van and stocking the shelves with food. There's a massive amount of work that goes into prepping the Harvest Compassion Center for guests weekly. Walt is always enthusiastic to help 'behind the scenes,' or as he stated, "It's like the lower level of the Titanic, we work hard in the back and have a lot of fun!" Walt surely isn't afraid of getting his hands dirty and all of us at Harvest Compassion Center are so thankful for his giving spirit and attitude.
Walt encourages others to join the volunteer crew at the HCC saying, "Please come serve with us, it fulfills your heart and soul. It's fun and rewarding and you meet great people." Walt has told others many times that his life has been changed by volunteering at the HCC. Volunteering keeps him in the Lord's spirit and he knows it's honoring to Him. Walt truly lives and breathes all things HCC, he's an all-in type of guy, who is a blessing to the HCC's outreach and guests.
Thank you again Walt for the thousands of hours you've served and most of all for the compassion you demonstrate daily!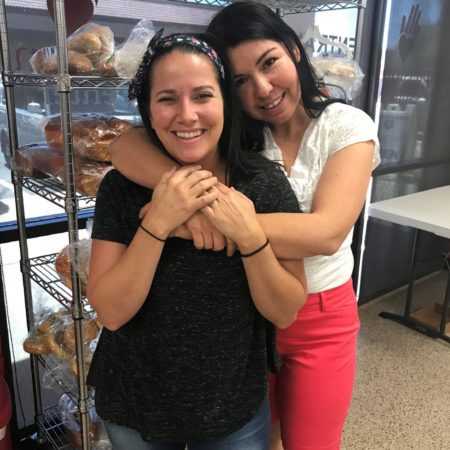 Laura Mancuso
Laura Mancuso has been volunteering at the center for close to 2 years.  Laura, a busy wife, mom, and business owner of Bicycles of Phoenix, has sacrificially donated her time to serve her neighbors at the HCC monthly.  Laura has literally done it all!  She's been a food shopper, a clothing shopper, helped with our Backpack and Christmas Outreach drives, served at our Open Houses giving tours, and been floor manager during shifts, as well as, ran the computer for guest check-in.   Laura is an all-in, team player, someone who stays busy from opening to closing!
"My favorite part of volunteering at the HCC is the opportunity to get out of my comfort zone serving HCC guests, also the amazing camaraderie and friendships I've made while serving is something I treasure!" replied Laura.
Laura in all honestly was hesitant to begin volunteering at first, however, when she searched the Bible she was reminded how Christ laid down his own life for us, she knew the importance of serving others must be a priority in her life and not something she would eventually get around to.  Laura went on to say, "We are blessed to be living in this generation, residing in beautiful Arizona, a place where we can worship freely without the risk of torture or death for being a Christian. True, most of us are not at risk of being burned at the stake, stoned, being fed to the lions, or hung on a cross.  However, to many of us, the idea of sacrificing our TIME, which, if you are like me, is my most precious commodity, sounds a bit like torture.  In fact, for many of us, if asked if we'd prefer to give of our time and energy or be fed to the lions, our first question might be, "How big is the lion?"  Ephesians 5:8-16 "Awake, O sleeper, and arise from the dead and Christ will shine on you."  When we wake up from our old, tired ways and rise to the calling of Christ, suddenly our world, and the world of those around us shines bright!  People start noticing a change in you, and when you tell them that you are serving at the Compassion Center or in any capacity, Christ's love is being reflected."
Laura has truly exemplified the true meaning of servanthood and she has been rewarded with new, wonderful friends who she now shares a common bond with.  She found the HCC Phoenix, a place where she can truly make a difference, something she never knew she was missing until she said yes!
"I am truly blessed by the stories and smiles that are exchanged each time I volunteer my time at the HCC," added Laura.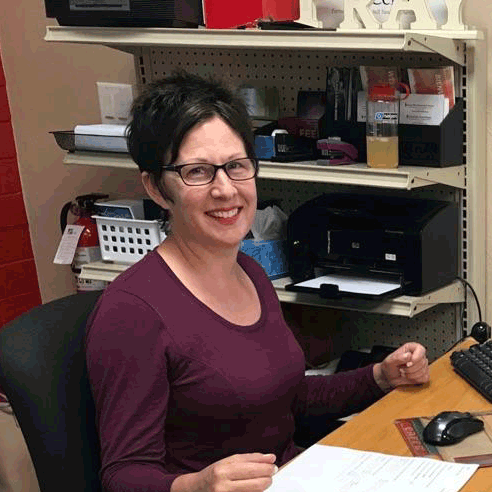 Carol Augustine
Meet Carol Augustine, who has been volunteering at the Harvest Compassion Center Phoenix for the past three years.  Carol started out serving our guests in our clothing boutique; today she works the front desk checking guests in. Carol's heart has always been drawn to serving her local community; from the moment she heard about the HCC's outreach in the Valley she couldn't wait to get started!
Being bilingual Carol is a huge blessing to our Spanish speaking guests who make up 45% of our overall client base.  Carol counts it a privilege for the opportunity to truly get to know each guest who walks in the HCC doors.  She is encouraged as guests share with her their personal struggles and hardships, as well as, their thankfulness for the HCC.
When Carol was asked how her life has changed by volunteering at the HCC she replied, "To be able to pray and share the Lord's love to the broken, mentally ill, addicted, homeless or even just everyday people, is just beyond words.  Remembering why this charity was started, the legacy that Mitch has left, and the commitment to carry that out tirelessly, motivates me to keep a healthy perspective on what is really important in life."
Carol also raves about the other faithful HCC volunteers who serve sacrificially week in and week out, proving the mission of Harvest Compassion Center is truly a team effort!  Today we thank Carol for her faithful service to the HCC.  Volunteers like Carol are the reason the HCC can open its' doors and serve 500 plus families a month.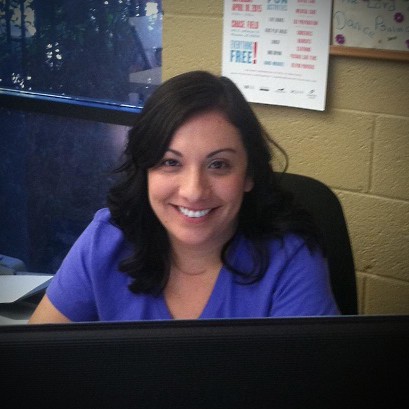 Yadira Davis
The Harvest Compassion Center is only able to fully operate weekly because of the generous volunteers who donate their time serving their community. One of the HCC's most faithful volunteers is Yadira Davis, whose servant's heart shines every time she walks into the HCC.
Yadira, a Phoenix transplant from Chicago, got involved with the HCC almost two years ago. She was praying for a place that she would be able to serve and use her talents, and the Lord led her to the HCC. Yadira, being bilingual, is a huge asset to the Hispanic community in the Valley, which helps each shift she works run smoothly. At first, Yadira admits to being slightly overwhelmed by the need in the community for a place like the HCC. The HCC is located in a middle-to-upper class area of Phoenix which places it in a stereotype that those living in that area are not hungry. Yadira found the opposite to be true, it doesn't matter where you live; the need for assistance is great.
After volunteering Yadira was surprised to find how much fun it was to serve at the HCC and what a blessing and honor it is to hear people's needs, praying over those needs and then later hearing how God answered those prayers. "I'm blessed by this regular reminder of God's faithful grace and love for us as well as the reminder of the power of praying with and for others," said Yadira. Yadira's favorite part of serving in the HCC is seeing people moved by prayer, seeing other's willingness to serve those in need which spurs her on to continue serving. She's blown away how one bag of food can make such a big difference to a family! Families received food and clothing from us, but then we see these same families come back again this time not as guests, but as volunteers to serve others out of the gratitude for the help they once received.
As the HCC continues to grow and serve the community in the Phoenix area, Yadira asks that you prayerfully consider giving some of your time or financial resources to reach the needs of your neighbors. "I love to work at the HCC because it gives me the opportunity to serve the needy out of obedience of the Lord. Matthew 25:25, "For I was hungry and you gave me food, I was thirsty and you gave me drink, I was a stranger and you welcomed me." Yadira commented. "I see God softening hearts here at the HCC, what a joy to be a part of that!"
All of us at MSC and the HCC thank Yadira for her hours of service, for always being a faithful, reliable volunteer who we can count on every time she's asked. Her servanthood is an example for others!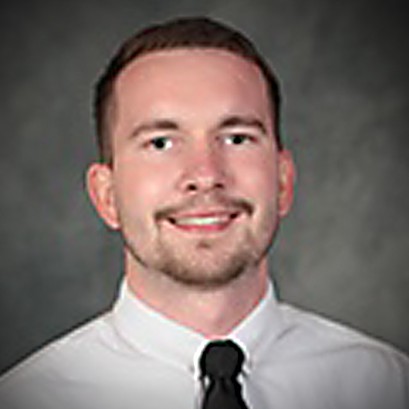 AJ Sherant
Meet local Phoenix realtor, AJ Sherant with First Page Homes serving North Phoenix. An entrepreneur at heart, AJ has been using his outstanding customer service skills to help others find the perfect match when it comes to house hunting. As AJ stays busy with Arizona's housing market, he also realized there's more than just serving his customers; he felt the urge to serve his local community as well.
AJ walked into the Harvest Compassion Center about 3 months ago during one of our busy shifts. After realizing that he wasn't there to be served, he asked, "What is this place?" We spent the next 20 minutes showing AJ around the center, as well as informing him of what takes place daily at the HCC. AJ was blown away by the HCC's response to fight hunger within his own community, and immediately knew he had to join the crusade in some way! What resulted was AJ organizing his own neighborhood food drive.
AJ told us that he had always been aware that Arizona was one of the national leaders in food insecurity; however, he wasn't exactly sure how he could help personally. His inspiration came from one of his fellow brokers during a team meeting, as they were brainstorming different ideas of how to make it easy to donate; AJ said the 'light bulb moment' happen! He knew that if he made donating food super simple and convenient he could do his part in helping combat the hunger crisis. AJ not only walked door to door passing out HCC flyers and bags asking for food donations, he produced a short video which he posted online to help raise awareness of Arizona's growing hunger problem! When I asked AJ why he felt led to assist the HCC he mentioned that after touring the HCC he loved the way our center is set up. It's a store where families are allowed to 'shop' for the things they need all for free, with nothing being pre-packed or boxed. The HCC's location is also close to where AJ resides and he knew the local community should be helping their local food bank! "Once I met the volunteer staff and saw how much they genuinely care and wanted to help make the community a better place, I was blown away and soon realized they were more than just a food bank. It was clear to me that they ran an amazing operation that I am sure Mitchell would be proud of," commented AJ.
AJ definitely has gone above and beyond setting high goals that were successfully met by donating over 500 pounds of food to the HCC over the past month. "It was really cool to see all the donation bags in one pile, I also learned that organizing a food drive like this was actually much easier than I anticipated. The Fry's on 32nd street was awesome providing bags and our community response was amazing!" stated AJ.
Just think what can be accomplished when we all have the focus and drive like AJ. All of us at the HCC send a huge thank you to AJ, those who helped him collect and deliver bags of food and his generous heart to helping secure that those in his own backyard don't go hungry!