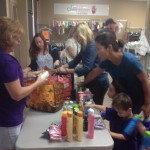 Over the past two months, the Harvest Compassion Center has hosted numerous class field trips and service groups from various nearby Phoenix schools. The Harvest Compassion Center hosts classes and groups throughout the year, however, around the holidays we are especially busy sharing our mission with the youngest of volunteers. The HCC welcomes preschoolers to college age students into the center to learn all about the purpose and vision behind the HCC, our operations and then conclude their visit helping us sort and stock donations. Each group holds a mini-food and/or clothing drive and brings their donations with them when they visit the HCC. After they sort their donations they stock the items on our shelves according to the type of product.
"The kids really have a fun time putting the food on the shelves; they are fast workers and want to run back for more! When we ask the young kids why they came to the HCC today, one little boy answered, to give free stuff away and help people. He was exactly right!" commented Nicolee Thompson, HCC Director.
To book your class field trip or group, please contact Nicolee Thompson. Groups are hosted on Tuesday, Thursday or Friday mornings year-round.
Thank you to Mrs. Cornelius, Mrs. Hughes, Mrs. Macias, Teacher Heather, Mrs. Sia and Mrs. Underhill, Mrs. Martino, Mrs. Johnson, Mrs. Underwood, Harvest Bible Chapel Glendale Youth Group, Harvest Bible Chapel Chandler Youth Group for bringing their classes and groups into the HCC this year!